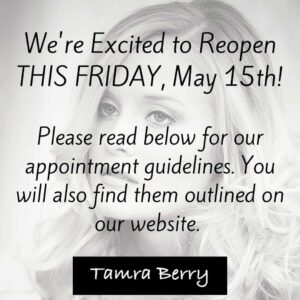 💕We are so excited to start seeing everyone again.
We have missed you!!💕
•As we reopen on May 15th we want to inform our clients on policies that will keep our clients and staff safe.
•We have upgraded all sanitation practices according to the CDC and State Board requirements to inhibit the spread of Covid-19.
•We ask that you reschedule your appointment if you are experiencing any signs and symptoms of Covid-19 or not feeling well.
•We are asking clients to wait in their car until their stylist notifies them to come in.
•We ask that only the client receiving the service enters salon for appointment unless a caretaker is needed.
•We ask all clients to wear a mask upon entering the salon. We will provide a mask for a small fee if you do not have one. All personnel at Tamra Berry Beauty will be wearing masks.
•We have hand sanitizer placed at all stylists station and the front desk.
•Upon entry to the salon your stylist will immediately have you sanitize your hands. Stylists will sanitize their hands before and after each client.
•We will be making confirmation calls with a symptom checklist. Anyone who doesn't confirm their appointment could lose that appointment time.
•We have temporarily removed all refreshments and magazines.
•We ask per State Board suggestion that clients ask stylist or receptionist to pull needed retail products for them.
•We reserve the right to take clients temperatures upon arrival. Staff will be taking temperatures upon arrival to work.
•We ask clients to please be aware that your appointment may take longer than normal and because we have not seen you in so long, the  price of a color service might be higher due to the use of more product.
•As we reopen we ask for patience on scheduling appointments as we have 9 weeks of guests to contact and schedule.
•Thank you for your patience and understanding through this time❤️
Sincerely,
Tamra, Lindsay, Connie, Allen, and Kyle
Our Prices

Bridal Makeup Includes Pre-Wedding Trial, Day of Wedding Makeup and Lash Application $160
Bridal Hair Includes Pre-Wedding Trial, Day of Wedding Hair and Veil Set $160
Includes Pre-Wedding Hair and Makeup, Day of Wedding Hair and Makeup with Veil Set and Lash Application, Manicure, Pedicure $360
$25 per person
Spray Tan Customized for Each Person
**For Parties of 6 or More
Spray Tan Customized for Each Person
Spray Tan Customized for Each Person
Buy 5 sessions get the 6th free $199.95
*rapid tan is not included in spray tan packages
I love this salon!!! Very professional and they do amazing work!!!
⭐ ⭐ ⭐ ⭐ ⭐
Megan Sullivan
I love everyone at the salon! Tamra did my makeup for my wedding and
OMG it was PERFECT!!!! Tammy did all the girls' spray tans and it was
completely perfect! Lindsay does my hair and She always gets it the perfect
color and for my wedding, I have never felt so completely perfectly
beautiful! Thank you to all of them for making my wedding day (and every
other day) so lovely!!!!!! I love them all!!!!!!
⭐ ⭐ ⭐ ⭐ ⭐
Shelley Gabbard
I love going – such a welcoming, friendly, care taking and professional place
with great atmosphere
⭐ ⭐ ⭐ ⭐ ⭐
Nicole Kreutzer
Testimonials